MACC's June 2020 eMessage
The latest news from your friends at MACC
In this issue…
> Client Relations News
> Success Story
> Employee Announcement
> MACC continues to grow
> Software Update
> Technical Information
> Creative Solutions
> What's New on MACC's Website
> Featured Recipe
MACC Calendar
July's transmit day for first of the month billing is June 23rd. Follow this link to see the complete 2020 transmit calendar.
MACC Announcements
MACC will be conducting network maintenance on June 14th
From 10:00 a.m. to 3:00 p.m. (Central) on Sunday, June 14th, our technicians will conduct maintenance on our network. During this time, web-based services from MACC may be unavailable. This affects MSaaS and all MACC websites (Web Reporting, TMS, FTP, etc.) as well as online access to customer statements. Going forward, MACC will be scheduling network maintenance during the same timeframe on the second Sunday of each month. Please contact your MACC Client Relations Manager or Account Manager if you have questions regarding this maintenance schedule.
Reminder – eMACC applications received cybersecurity enhancements
Our eMACC Team implemented cybersecurity enhancements across our web applications on Monday, March 16th. These enhancements were made to support increased awareness of cybersecurity threats. The enhancements include a required password change to access eMACC products. Login to our Client Pages and then review the Cybersecurity Update on our eMACC page for details.
Featured Web Training
What's New in Customer Master 20.1
We'll walk you through updates to Inquiry, new features related to Service Order and Trouble Tickets, an overview of new Messaging options, and updates to reports. Some really exciting updates include a new in-grid editor for Addresses – making managing your Customer Master addresses so much more efficient. We'll also look at new Billing Categories and methods to handle unreturned equipment.
What's New in Accounting Master 20.1
We've made changes to some of your favorite features including Purchase Order Requisition Approval Improvements, Purchase Order Requisitions Improvements, FMLA Tracking, AR Recurring Entry Improvements, Align Check Template, and Custom Grid Reports Suite.
Printable Newsletter
Click here for a printable version of our newsletter.
Client Relations News
The MACC Team is saddened to officially cancel MBTC 2020
While this was a difficult decision to make, we are absolutely certain this is the right decision. It is our responsibility to keep our customers and our staff as safe as possible, and with that in mind, we decided the socially responsible direction to take would be to cancel the conference.
Read the article
MACC Success Story
Peoples Telephone Cooperative boosts productivity with CRM
When we find a company doing an outstanding job using our products to their fullest extent, we love to share! For this success story, we want to highlight Peoples Telephone Cooperative's use of Customer Master's CRM (Client Relationship Management) feature. The Texas-based company uses CRM in six different ways to boost productivity with more ideas in the works.
Read the article
Employee Announcement for June 2020
Three long-time MACC associates have moved into new leadership roles within our company.
Read the article
MACC continues to grow!

Nucla-Naturita Telephone Company chooses MACC's Billing System
Nucla-Naturita Telephone Company (NNTC) selected MACC to provide a new billing system. The company's conversion was recently completed, and it is now using MACC's platform for its billing, customer management, and accounting needs.
NNTC is located in Nucla, Colorado and also serves the neighboring communities of Naturita, Paradox, Gateway, and Arrowhead. The company provides internet, telephone, and wireless service to its community. It also sells wireless phones from its office in Nucla.
Please join us in welcoming them to the MACC family!
Software Update
Team Software Support to keep you connected

Our goal in Customer Master Support is to respond to your questions and concerns as quickly as possible. While it is true that you can call or e-mail your assigned Customer Master Software Support Rep, if that representative is away or handling another customer, there could be a delay in response time.
Read the article
Technical Information
How to check-in from remote locations

Everyone needs some time off from work now and then, and everyone could use a vacation. But what if something comes up at work that demands your attention? Well, it's easy to do some standard work, when you have the right tools and security.
Read the article
Creative Solutions
Put some energy into eBill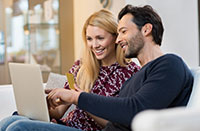 Are you interested in receiving payments in less time, lowering postage expense, and reducing paperwork? Are you looking to reduce physical interactions with customers during this new normal? Who isn't? Each of these worthy goals can be attained by boosting the number of your customers using eBill and MACC has tools to help.
Read the article
Featured Recipe – Danish Puff
Give this tasty treat a try for your next family event.
1 cup flour
½ cup butter, chilled and cut into cubes
2 tablespoons ice water
½ teaspoon almond extract
Get the recipe