Current eMessage > Client Relations News > June 2020
Client Relations News
The MACC Team is saddened to officially cancel MBTC 2020
While this was a difficult decision to make, we are absolutely certain this is the right decision. It is our responsibility to keep our customers and our staff as safe as possible, and with that in mind, we decided the socially responsible direction to take would be to cancel the conference. MBTC (it's been called different things over the years) has been taking place for over 30 years and has changed over time, but it's always been an event the MACC Team truly looks forward to because we get to interact with the people we consider to be the most special of all – our customers.
As MACC celebrates our 45th Anniversary this year, we are hopeful we can celebrate the anticipation of the next 45 years with you during MBTC 2021 at the beautifully remodeled Embassy Suites Downtown Omaha!
As always, please contact us if you have any questions or if there is anything we can do for you!
Return to current eMessage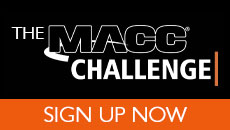 Article Archive
April 2020
MACC is proud to support your company
February 2020
MACC's 2020 Users Group is a sure bet