Current eMessage > Creative Solutions > April 2018
Creative Solutions
Check out these construction season communication tips
By Ryan Thompson, Creative Services Manager
The grass will soon be greening up, baseball started last week, and the fields surrounding MACC's headquarters are filled with robins. This can mean only one thing…construction season is here! As your company gets started with its springtime projects, here are a few ideas to keep your customers in the loop and sell some new services.
Share your plans
If you have construction projects on the calendar, use your newsletter, social media and website to share your plans as much as possible. Customers can get excited about the potential of improved services coming to their neighborhood and they may be more understanding of any hassles caused by construction.
Over communicate planned outages
If you have an outage planned during a project, don't forget to get the word out as far in advance as possible through as many channels as you can. Social media is great for this purpose as it pushes the information out to customers. Make sure to tout the benefits of the project as these will help make up for any short-term pain caused by construction related outages.
Use email to your advantage
Communicating construction plans and associated outages is the perfect job for e-mail. You can send e-mails directly from Customer Master and even use targeted messages based on account criteria. For help with this task, contact our Customer Master Software Support Team.
Signage for contractor vehicles
If you're using outside contractors for a large project, one way to let customers know they're associated with your company is to have magnetic, vinyl signs created with your logo and branding. These signs can be stuck on your contractor's vehicles to let your customers know about the legitimacy of the outside company when its employees are in their neighborhoods.
Don't let your team be camera shy
Taking pictures of your company's progress and then sharing them via your website and social media is an easy way to let customers know how you're progressing on a project.
Share the good news
When a phase of a project is done, make sure to tell everyone about it…specifically any new and improved services that are now available. Whether you use social media, direct mail, e-mails, newspaper ads, or other means of advertising, it's important to do something to get the word out.
Need help tackling this to-do list?
MACC's Creative Services Team can help your company communicate your plans for this construction season and then market the new services available when the work is done. We create designs that "pop" for everything from bill inserts to billboards. Send an e-mail to [email protected] or call me directly at 402-533-5381 for complete details and examples of our work.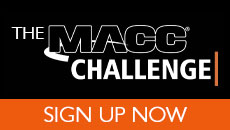 Article Archive
January 2018
It's not too late to plan for 2018