Current eMessage > Creative Solutions > July 2019
Creative Solutions
Ready for a rainbow?
C

O

L

O

R

P

R

I

N

T

I

N

G

IS HERE!

You asked for it and MACC listened! We are pleased to announce your company's bills can now be printed in FULL COLOR! It's the biggest news in phone bills since we added a line for internet charges. Ready to turn the color on? Complete the form below to let us know you're interested.

Bill samples
We have created samples illustrating a variety of color options. Click the links below to view them. These are just a few of the ways color can be used on your bills. The Creative Services Team can provide complete details and coordinate the creation of color samples for your company.

Besides full color being awesome…why switch?
Present a modern, progressive image to your customers
Use full color to advertise important information and profitable services
Tighter integration with other marketing material
There are a few details
MACC2 bill format: Color is available on the company or main report area logo and on-bill ads.
MACC3 bill format: Color is available on the company or main report area logo, on-bill ads, main section bars, and network logos.
Follow this link for more information on the parts of the bill where color is available.
Color printing requires the use of white paper.
Interested in color bills? Request a sample bill
Please complete this form to let us know you're interested in color bills. A member of MACC's Creative Services Team will then provide a bill sample using your company's logo and color. You can also contact the Creative Services Team directly at [email protected].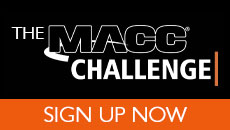 Request a color bill sample
We hope you share our excitement about color coming to MACC's bills. This ability to offer color printing comes in the wake of the new "big" printer MACC installed last summer. The printer, and the benefits it brought, are one more example of how MACC is investing in the future to deliver the products and services your company needs.