Current eMessage > Creative Solutions > March 2020
Creative Solutions
Ideas for your spring "to-do" list
by Ryan Thompson, Creative Services Manager
My daughter and I were recently out for a walk taking advantage of an unseasonably warm weekend day. We noticed quite a few robins flying around the neighborhood, which in eastern Nebraska is a sign spring is on the way. With spring on my mind, I began making a mental checklist of all the outdoor projects I want to tackle once warmer weather is here to stay. As a telecom company, now is a great time to make your checklist for spring projects as well.
I'll leave the details of your spring construction projects to your in-house plant experts, but the checklist I have in mind supports work in the field and positions your company to sell more services in warmer weather.
Here are a few things to consider as your company gets ready for spring
Remind customers of the importance of dialing before they dig. MACC's on-bill ads are an inexpensive way to get the word out.
Check your door tag supply. Does your plant team have door tags to use during projects? Do you need to order more?
Learn how to use Messenger in Customer Master. This feature can be used to send your customers a heads-up via e-mail about any scheduled outages caused by spring construction. Training is available for Messenger.
Consider yard signs…especially if you're building into new areas. Yard signs are a cost-effective way to market to new customers.
Are there snow birds returning to your community? You can develop a plan for upselling when they contact you to reestablish services. Adding talking points to Suggestive Marketing in Customer Master is an easy first step.
Start your summer marketing plans. Summer, and houses filled with bored kids, will be here before you know it. Now is the time to plan to sell services like faster internet and video packages to keep customers happy.
The Creative Services Team and others here at MACC can help with this checklist and much more. Contact us today to learn how we can help put your plans into action…or we can work with you to chart a course for the rest of 2020. Reach us at [email protected].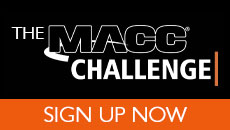 Article Archive
January 2020
Sign up for MACC's Marketing Reminder