Current eMessage > Product > May 2018
Product Spotlight
Customer Master 18.1
By Lori Bayne, Customer Master Product Owner
The following is a summary of the major new enhancements included in Customer Master Version 18.1.
Sales Lead
We are excited to announce a new module that will replace Quotes and Prospects. Sales Leads are formatted in the same fashion as a service order, allowing users to collect and store as much data on a prospective customer as a company would like from the start of the sales process. Sales Leads can also be created on existing customers inquiring on additional services. A simple accept will transform the sales lead into a pending service order.
Account Templates
In the 17.1 release of Customer Master, we introduced Account Templates. In this release, we have further expanded the functionality to allow users to link different tier templates together to create accounts. We have also added relative dates to assist users with entering correct service dates, as well as contracts, security deposits, and tier level comments.
Ability to View Locked Service Orders
Users will be allowed to view/read only access to locked service orders. Users will not be allowed to make any changes to that service order, but they can view the data while another user is in the same service order.
Service Order and Trouble Ticket Reports
Enhancements have been made to provide more information on service orders and trouble tickets. Internet plan information can be included with the internet account information. The equipment description and end-date fields have been added. Special circuit notes are now available on trouble tickets. The work performed section has been enhanced on trouble tickets.
Enhancements to the End User Bills
A new Extended OCC Description field has been added on all OCC screens, allowing users to add a more detailed explanation to the charge on the bill. Company preference options have also been added to print the service address of the network tier on the end user bill.
Additional Write-Off Enhancements
Further enhancements to the write-off process were included in this release. New company preferences have been added to automatically adjust the uncollectable amount with changes to the write-off amount. The ability to undo a single account from the mass write-off process is now available.
Report Updates
CPNI custom grid – a new custom grid report has been added to allow users to filter on all CNPI related fields
Uncollectable – only accounts with an uncollectable value will be in the dropdown field, plus a CSV file export was added
Pre-Billed Data Error Checks for OCCs – reports have been added to assist users with tax area validation on OCCs
Delinquent Listing – the 30, 60, 90 day breakout of the past due balance has been added
Plant Description & Service reports – plant key and the ability to look in bundles when filtering USP codes has been added
Write-Off report – active/inactive filtering of accounts has been added
For complete details on Customer Master 18.1, be sure to check out its Update Letter on MACC's Client Pages. Questions on this edition of Customer Master can be directed to your Software Support Representative.
Return to current eMessage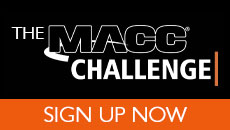 Product Spotlight Archives
January 2018
eMACC Management Reports