Current eMessage > Product > May 2018
Product Spotlight
Accounting Master 18.1
By Mary White, Accounting Master Product Owner
The following is a summary of the major new enhancements included in Accounting Master Version 18.1.
JE Import: Additional Import Sources
The Journal Entry Import feature allows external files to be created and imported directly into the ledger. In the past, all entries imported through the Journal Entry File Import were received into the database with a source of JE-Journal Entry. MACC has expanded this feature to allow entries to be imported from other source including, BT-Bank Transaction, CR-Cash Receipt, DP-Depreciation, IN-Inventory, LD-Labor Distribution, PR-Payroll, WO-Work Order Close, or BL-Billing Entry.
MACC Mobile: Requisition Attachments
Purchase requisition attachments can now be viewed through the MACC Mobile application. This feature allows the approving manager to view vital documentation associated with the request before choosing to approve or decline it.
TMS Wage Reports
The TMS Wage Reports feature has been redesigned. When accessed, the page will display a contemporary and convenient summary view of each pay period. The summary will include a quick look at gross income, taxes, and elective deductions, with the resulting net wages for the period. This information is displayed via graph and text. Full details will still be accessed from the saved PDF copy of the pay statement.
Email Notification on Timesheet Complete
Email notification can now be sent to the approvers and/or payroll department when labor has been marked as complete. This advanced feature of the Time Management System is executed by the employee from the My Time page. Labor for the employee is flagged as complete, and reported as such, from the management reports throughout TMS. This option must be turned on in Accounting Master where the email verbiage can also be changed.
Import Non-Inventory Details on Purchase Order and/or Purchase Order Requisition
MACC has developed an import to accelerate the purchase order process and increase efficiency for those orders with an excessive amount of non-inventory items. The process will import a comma delimited file that fits file format requirements. File validation will be the same as entering a new non-inventory item directly from the purchasing screen.
Alternate Vendor Addresses
Vendors may provide multiple addresses for physical, billing, shipping, tax processing, etc. With this need, MACC has added an option to store and maintain multiple addresses for a single vendor.
For complete details on Accounting Master 18.1, be sure to check out its Update Letter on MACC's Client Pages. Questions on this edition of Accounting Master can be directed to your Software Support Representative.
Return to current eMessage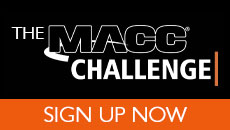 Product Spotlight Archives
January 2018
eMACC Management Reports