Current eMessage > Featured Employee > December 2016
Featured Employee
Anne Godsey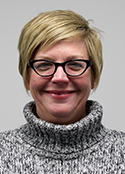 Anne Godsey is December's featured employee. She is an IS Project Manager, also known as a Scrum Master in the Agile project management world. Anne has the important task of guiding a wide variety of Customer Master, Accounting Master and application interface projects from start to finish.
Q. When did you start at MACC? 
A. September, 2001
Q. What is your favorite part of your job?
A. I get to learn something new every day about our software, and of course, my fellow co-workers.
Q. Can you please tell us about your family?
A. I'm married to Mitch who makes me laugh everyday. My daughter, Jennifer, and son in-law,  Lynn, have gifted me with a granddaughter that I have nicknamed "Beanie."
Q. What do you do for fun in your free time?
A. Lay on the couch, spend time with Beanie, practice yoga and shop for shoes…in no particular order.
Q. If you could travel anywhere to spend a week on vacation, where would it be?
A. ITALY (at least 2+ weeks)!!! My family is from Calabria, Italy.
Q. What's your favorite quote?  
A. Yesterday is History, Tomorrow is a Mystery, but Today is a Gift. That's why it's called the Present.
Q. If you could add any food to the MACC vending machines, what would it be?
A. Does it have to be food?  I want shoes in there!
Return to current eMessage