Current eMessage > Featured Employee > January 2016 Featured Employee
Featured Employee – Tim Carlson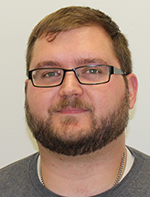 January's featured employee is Tim Carlson. Many of you have probably worked with Tim when he was a member of the Software Support team as he provided support for both Customer Master and eMACC products. Recently Tim accepted a position as the newest member of the Training Support team, and will now be a Training/Conversion Analyst for MACC's Accounting Master product. Pretty soon, he'll be leading classes and presenting at MACC events!
Q. When did you start at MACC?
A. September of 2013
Q. What is your favorite part of your job?
A. I really enjoy working with people, whether internally here at MACC or working with employees for the companies to which we provide service. Meeting new people, learning from them, and helping them find solutions to their daily challenges makes my job feel worthwhile.
Q. Can you please tell us about your family?
A. In September, I got married to my wife who somehow managed to put up with me for just over 8 years. We have three dogs and two cats. She would probably have more animals if I allowed it.
Q. What do you do for fun in your free time?
A. I like to play cards, board games, video games, watch sports, have the occasional glass of beer, wine, or whiskey (for medicinal purposes of course), or just hold the couch in my living room down.
Q. If you could travel anywhere to spend a week on vacation, where would it be?
A. Oktoberfest in Munich, Germany
Q. What's the best career advice you've ever received?
A. Treat others the way that you want to be treated.
Q. What's your favorite quote?
A. "Harmony with land is like harmony with a friend; you cannot cherish his right hand and chop off his left." – Aldo Leopold
Q. If you could add any food to the MACC vending machines, what would it be?
A. Whoopie Pies
Return to current eMessage