Current eMessage > Featured Employee > January 2017
Featured Employee
Steve Erlbacher

January's featured employee is Steve Erlbacher. As a Technical Support Specialist II he often travels to our clients' offices to install new workstations and servers. When he's back at MACC, Steve provides technical support on these devices, helps clients with networking issues and generally helps with any other technical questions that arise.
Q. When did you start at MACC
A. January 2015
Q. What's your favorite part of your job?
A. I enjoy the variety of the work and the challenges that it brings. If it's too easy, I will end up bored. I also enjoy talking to and working with our clients.
Q. Can you please tell us about your family?
A. I have a wife and a daughter. My wife, Kaylee, and I have been married for five years. Our daughter, Madison, just turned one. She certainly keeps things interesting for us.
Q. What do you do for fun in your free time?
A. I enjoy spending time with my family, fishing, camping, going to races, anything motorsports related and working on/restoring cars.
Q. If you could travel anywhere to spend a week on vacation, where would it be?
A. Daytona for Speed Weeks, the Daytona 500 or a tropical island.
Q. What's the best career advice you've ever received?
A. Following your passion probably won't get you anywhere, but being passionate while doing whatever it is you are doing can take you a long ways.
Q. What's your favorite quote?  
A. "Life should not be a journey to the grave with the intention of arriving safely in a pretty and well preserved body, but rather to skid in broadside in a cloud of smoke, thoroughly used up, totally worn out, and loudly proclaiming "Wow! What a Ride!" ― Hunter S. Thompson
Q. The one person I've always wanted to meet?
A. This would include meeting him, so it would be Jay Leno with a tour of his car collection.
Return to current eMessage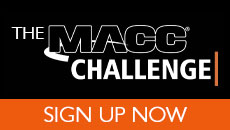 Featured Employee Archive