Current eMessage > Technical Information > April 2017
Technical Information
Beware of ransomware for hire
by MACC's Technical Support Team

There is a new threat in the IT world we want you to know about. Ransomware as a service allows individuals who are not technically advanced to purchase and deploy malicious malware to unsuspecting victims. Individuals who want to infect others but do not have the technical skills in order to code ransomware can now purchase a subscription to use someone else's ransomware creations.
This allows anyone regardless of their cyber know-how to become a hacker by simply downloading the virus, setting a ransom and payment deadlines, and attempting to trick someone into infecting his or her computer. If the victim pays the ransom, the original author will get a cut of the ransom and the rest will go to the individual who deployed the attack.
Since literally anyone can purchase and deploy ransomware, both companies and private individuals need to take precautions to prevent an infection in their equipment. Everyone should educate themselves on how ransomware is distributed and ways to protect themselves from losing their data if they do become infected. Phishing emails have become more advanced and can be difficult to spot. Hackers use official-looking company logos and language in order to trick people into clicking on any attachments or links within the email. If you receive an email that raises suspicions, do not click on any links or attachments within the mail and contact your local IT department.
Finally, every business and private individual should invest in a data backup routine. These services will not technically stop a ransomware infection, but they do allow anyone who has been infected to wipe the compromised machine and not lose their data or pay the ransom to hopefully get their data returned to them.
MACC has multiple weapons in the fight against ransomware. Our MARS service ensures the safety of your Customer Master and/or Accounting Master information by backing up the databases daily and our MBUS solution can backup sections or even your entire server to the cloud for complete safety.
For more information on this technology, or other questions you may have, feel free to contact your MACC Tech Support Team and we will be happy to help!  We can be reached at 402-533-5300.
Return to current eMessage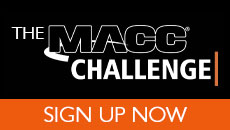 Have a technical question?
We would love to hear from you! Use the form below to submit your questions and comments and we will include them in our monthly newsletter articles.