Current eMessage > Software Update
Software Update
Reach new levels of customer care with Service Order Escalation
by Julie Riecken, Training Support Manager

I'm sure your company closely monitors pending service orders using the Inbox. If not – you should define a process to use the Inbox to regularly monitor for both Service Orders and Trouble Tickets. Today, we're focusing on Service Order Escalation.
Frequently review service orders assigned to you and service orders assigned to your department. Each department should designate one or two people to monitor the Inbox to verify efficient movement of orders. Service Order Comments are a great way to document the status on any open order.

In my example, notice the Priority/Escalation color established on each order. This is based on the Service Order Escalation set up in my database.
Service Order Escalation setup is found in the Service Order Suite. Here, you will identify how you plan to escalate your orders. Options include Stage Start/Stop, Taken-to-Completed, and Taken-to-Applied. You can then identify the time that will elapse before the ticket is moved to the next Escalation Level – low, medium, and high. For each, you can identify an email recipient to receive the escalation notification.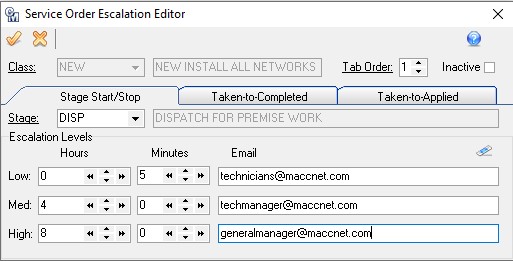 In the example, the technicians will receive an email after five minutes, the tech manager after four hours, and the general manager after eight hours. Your company can decide what escalation levels work best for you.
Keep in mind the automated email functionality requires a timed service to be enabled on your server. Work with your MACC Customer Master Software Support Representative to turn on this feature. We recommend training on this process. Suggested topics include Service Order Customization and Notifications in Customer Master.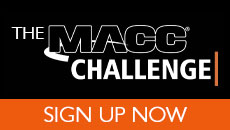 Article Archive
March 2018
Payment batches can be a piece of cake