Current eMessage > Technical Information > June 2018
Technical Information
We are here when you need us
We are always considering how to make it easier for our customers to reach us at MACC, and in line with that thinking, we maintain quick links on MACC's main web page (www.maccnet.com). There are links taking you to your favorite MACC people and the most frequently visited parts of our website.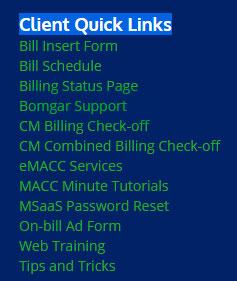 New (in May) to the quick links were Bomgar Support and MSaaS Password Reset.
Bomgar Support
How many times have you had to have your support representative tell you the address (support what??) to connect to Bomgar, which is our remote support system? Some of you have even saved it as a favorite so you don't have to type it. Now a link is conveniently available on MACC's home page. All you have to do is visit our site, click on the Bomgar Support Link and then select your MACC representative.
MSaaS Password Reset
We added this link for all of our customers on the new MSaaS system to give them a way to easily change their passwords using the self-service password manager. This is a valuable addition and a useful tool for those who use the MSaaS environment. If you haven't made the move yet to the upgraded version of MSaaS, don't worry. We are continuing our migration efforts and expect to have everyone moved over before the end of the year.
Security is always on our mind
We take security very seriously at MACC and have been working hard to develop a culture of security awareness. MACC is committed to offering our best to help you strengthen your defenses. If you have any questions, or if there is anything we can do for you, please don't hesitate to contact your MACC Tech Support Team and we will be happy to help! We can be reached at 402-533-5300, or via email, at [email protected].
Return to current eMessage
Have a technical question?
We would love to hear from you! Use the form below to submit your questions and comments and we will include them in our monthly newsletter articles.