Current eMessage > Client Relations News > June 2017
Client Relations News
Unmask your potential at the 2017 MBTC
by JoEllen Maras, Creative Services Designer

Registration is open and we are excited to offer a parade of complimentary training, general sessions, and paid training for you to attend during the 2017 MACC Billing and Technology Conference (MBTC). Here are just a few things we'd like to highlight as you head to Omaha this September…
TRAINING
MACC's Training Krewe* has worked hard to put a great selection of training classes together for you! Take ALL the paid training sessions you'd like on Day 1 and Day 3 of the conference for the low price of $139…that's an $800 value! Paid training will ONLY be offered on Day 1 and 3, leaving Day 2 packed with informative sessions and complimentary training.
Do you need a refresher of basic Customer Master functionality? Are you new to your company or a new user of Customer Master?  Then, our Short Jump Start class is for YOU!  Join MACC's Mark Uphoff for a 4-hour Jump Start à court terme* as he covers the basics of Service Orders, Trouble Tickets, Payments, and more!
One-on-One Sessions – Due to the continued popularity of this feature, we will again have a complimentary hands-on training room staffed with MACC employees throughout the entire conference. Stop in for one-on-one conversations about our products and take advantage of this great opportunity to ask staff specific questions you may have about MACC products.
Laissez les bons temps rouler!*
Day 1: Hospitality  – Let's Take a Walk Down Bourbon Street! Stroll down to the hotel atrium for heavy hors d'oeuvres with a Louisiana flair! Relax with a cocktail and enjoy good food and conversation with your peers and MACC staff.
Day 2: Banquet Night – Join us for a MACCsqeurade!  Enjoy a delicious buffet dinner and a night of fun! Prizes will be awarded for the best Mardi Gras mask!  Back by popular demand….Fun Pianos! By 176 Keys. The Fun Pianos! Show is NOT a concert. These guys lead a musical PARTY! Tons of singing along (mostly classic and current rock plus country), with fun and comedic surprises throughout the show. Bring your FUN attitude to a FUN PIANOS show, and be ready to laugh and sing.
REGISTRATION IS OPEN NOW!
Visit www.maccmbtc.com for hotel information, conference schedule and on-line registration. If you have any questions about this year's MBTC, please feel free to contact JoEllen Maras or Kristi Rounds.
*Mardi Gras Lingo:
Krewe:  A private social club that sponsors Mardi Gras balls and parades.
à court terme:  French for, a short term
Laissez les bons temps rouler!: Let the good times roll! Which is what we strive to do each September!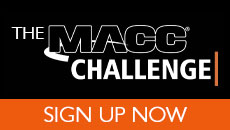 Article Archive
March 2017
There is STILL time to register for MACC's spring events!
February 2017
Keep your skills in tune when you join MACC on the road this spring!
January 2017
Save the date for the Midwest Road Shows