Current eMessage > Client Relations News > February 2018
Client Relations News
Here's "What's Cooking" when you join MACC on the road this spring!
by Kristi Rounds, Creative Services Coordinator
MACC is serving up lots of great tips and tricks on the road to bring you training and the latest news on our products and services. Starting in mid-March, our Midwest Road Shows will be in Kansas and Iowa. After that, we are heading west to the MACC Users Group in Chandler, Arizona. Details and registration for both events are now available.
Remember that each of these events are open to all MACC clients, regardless of where your company is located. Wherever you call home, we are always happy to see you at our spring events.
2018 MACC Midwest Road Shows
Complete details, and a form to register for the Road Shows, are available at: www.maccroadshows.com. This year's Midwest Road Shows will make the following stops:
• Cedar Rapids, Iowa on March 13th
• Fort Dodge, Iowa on March 14th
• Hays, Kansas on March 21st
• Topeka, Kansas on March 22nd
Road Show agenda topics include…
• Customer Master Year in Review
• Customer Master & Accounting Master What's Coming in 18.1
• Web Self-Care
• Accounting Master Reporting, CM eMACC and much more!
2018 MACC Users Group
Are you ready for a new batch of training? Then plan to attend this year's MACC Users Group held April 17th-19th at the Wild Horse Pass Hotel & Casino in Chandler, Arizona. Complete details, and a form to register for the Users Group, are available on the event's website: www.maccusersgroup.com.
The event is split into two parts, one for Customer Master and one for Accounting Master. This arrangement allows for more in-depth discussion on each product. Attendees have the option to sign-up for sessions on either of the individual products or can attend both at a combined rate. Here is a sneak peek at a couple of sessions that we have mixed up for you!
Outside the (pizza) Box: MACC Mobile – Customer Master
MACC Mobile is a powerful tool … and it's definitely outside the "box" of processes so many of us have been used to for years. We are going to show you how to be more efficient every day – if your company has never used MACC Mobile, you are going to want to stew over the things you learn in this class. If your company already uses MACC Mobile, you are going to see a whole bunch of exciting new features!
Accounting Master Customization + Options
When you combine just the right ingredients in Accounting Master, you will find it can be very easy to use. This session will focus on optimization tips that will help you be more efficient than ever!
Questions about either event?
If you have any questions on the MACC Road Show or Users Group, please contact Kristi Rounds at 402-533-5184, [email protected] or JoEllen Maras at 402.533.5117, [email protected]. We look forward to seeing you on the road!
Return to current eMessage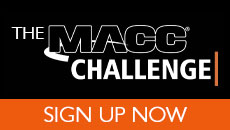 January 2018
Registration is open for the 2018 Midwest Road Shows