Current eMessage > Client Relations News > July 2017
Client Relations News
Time to Register for the 2017 MBTC
by JoEllen Maras, Creative Services Designer

September is just around the corner and you don't want to miss out on this year's conference! Full details and our registration form can be found on the MBTC website.
Check out our exciting parade of paid training this year!
We are again offering all-inclusive paid training on Day 1 and Day 3 of the conference. Take as many paid training classes as you'd like for only $139…that's over an $800 value! Here is what's available:
Address Management
The golden rule of addresses: less Is more. This is the key to maintaining clean and accurate addresses within your database. This session will cover all aspects of addresses and the processes involved in cleaning up bad records. Tools, such as Address Auto-Assigned Values and E911 Automation, will also be used. If you think your addresses need help, then this hands-on session is for you.
AM/CM Custom Designer
Do you feel your delinquent notices don't have enough POP? Are your accounts receivable invoices thrown away by your customers without a second glance? Come on down to Big Tim's Designer Junction and we'll show you how to customize these documents to get more attention!
CPRs (Continuing Property Records)
Learn how to manage your CPRs in Accounting Master, discuss how to track your CPRs, and review the recent enhancements that will allow you to manage your CPRs more efficiently!
e-Notifications in Customer Master
Learn about all the options available with E-notifications within Customer Master, for both internal employees and end-users of your services. Whether you're wanting to send a new customer welcome packet, a payment confirmation email or an appointment change notification, this course will show you the growing list of system-generated electronic notifications and how to utilize them to maximize efficiency within your office.
Plant Cleanup
Do you have a mess on your hands in regards to plant data and records management? Plant Cleanup Options will show you how to identify problems with plant, how to fix them, and how to keep them in great shape after they've been cleaned up.
Secrets and Shortcuts for Customer Master Users
This session won't put you on Bourbon Street, but it will put you on Easy Street. We'll implement tools, tips and shortcuts including Installment OCCs, inquiry and payment notes, templates, zip codes on the fly and more. 
Short Jump Start
Do you need a refresher of basic Customer Master functions?  Are you new to your company? Are you a new user of Customer Master? In any of these scenarios, our Short Jump Start class is for YOU!  Join MACC's Mark Uphoff for a Jump Start à court terme as he covers the basics of service orders, trouble tickets, payments, and more!
Space is limited – so register early!
Register now…or register later
You can register for paid training when registering for the conference OR you can register separately by following this link. Don't forget…take full advantage of this great deal and sign-up for as MANY classes as you'd like. Feel free to add classes to your registration at any time leading up to the conference by simply using the Paid Training registration form found here.
In addition to paid training, we have a full schedule of complimentary training and informative breakout sessions to keep you busy each day. A full schedule and complete course descriptions are available here.
Don't forget to pack your Mardi Gras mask…prizes will be awarded for the BEST masks during our MACCsquerade party!
Questions?
Please contact JoEllen Maras or Kristi Rounds. We look forward to seeing you in September!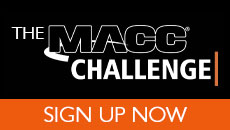 Article Archive
June 2017
Unmask your potential at the 2017 MBTC!
March 2017
There is STILL time to register for MACC's spring events!
February 2017
Keep your skills in tune when you join MACC on the road this spring!
January 2017
Save the date for the Midwest Road Shows