Current eMessage > Client Relations News > August 2017
Client Relations News
Important MBTC dates and highlights
by JoEllen Maras, Creative Services Designer

Now that August is here, there are a few important dates for you to remember. Most importantly, the registration deadline for the 2017 MBTC is Friday, August 25th. The discount rate of $152/night for hotel rooms expires on August 22 for Session 1 and August 29 for Session 2 or when the room block sells out. Please plan to make your room reservations early!
Conference Highlights:
One-on-One with MACC employees will again be available on both Day 2 and Day 3 of the conference. Be sure to stop by and take advantage of valuable face to face time with our MACC experts!
This year we have some exciting new general sessions and complimentary training for you to attend. Here are a few you won't want to miss:
Walking Through Billing
If you've ever been curious about the billing process, this session is for you! Join us for a high-level presentation of what happens behind the scenes at MACC! Items covered in this visual presentation will include data control processes, printing statements, inserting & mailing statements and the ever popular question: who are the programmers and what do they do?
Protect Your Data
This classroom type session will provide basic tips on how to protect your data. We will cover a wide range of topics that pertain to protecting data. Some of the topics will include:
– Cyber security
– Safeguarding against viruses and ransomware
– Watching out for phishing attacks
– Keeping servers and workstations patched and updated
– Air gapped backups
– Disaster recovery plan and preparation
Table Top Talk
Looking for an opportunity to visit with your peers in the industry? Have you always wondered, "How do other companies do this?" In this new session, a variety of topic tables will be available, each with a resident MACC expert. Pick a table, have a seat and enjoy this intimate opportunity to learn, share and explore. Feel free to stop by more than once as this session will be offered multiple times.
AM MACC Mobile + Inventory
An introduction to the Mobile world of Accounting Master. This will cover inventory transactions, inventory counting, receiving in purchases and approving purchase order requests. Also included will be moving inventory to customer networks in Customer Master using the Network Inventory Interface.
A complete schedule and descriptions of each session are available on the MBTC website.
In between all of the learning and training, we've incorporated plenty of time to have some fun! Plan to "Take a Walk Down Bourbon Street" during Hospitality for great food and networking with MACC employees and your peers. Banquet night is sure to be fun as we celebrate with a "MACCsquerade" and entertainment by Fun Pianos! By 176 keys.
As always, if you have any questions about the 2017 MBTC please contact JoEllen Maras or Kristi Rounds. We look forward to celebrating Mardi Gras in September with you!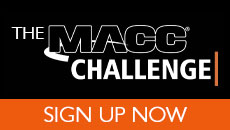 Article Archive
July 2017
Time to register for the 2017 MBTC
June 2017
Unmask your potential at the 2017 MBTC!
March 2017
There is STILL time to register for MACC's spring events!
February 2017
Keep your skills in tune when you join MACC on the road this spring!
January 2017
Save the date for the Midwest Road Shows