Current eMessage > Client Relations News > October 2017
Client Relations News
Thanks for attending the 2017 MBTC
by JoEllen Maras, Creative Services Designer

Each year we look forward to seeing old friends and making new ones. We hope all of you went home with lots of great information and new ideas to implement in your offices.
Evaluations
Thank you for taking the time to fill out our conference and training evaluations. We value your feedback and are always looking for ways to improve your MBTC experience.
Presentations
As a reminder, presentations from this year's sessions are available on MACC's Client Pages. You will need your log-in information to view the presentations. Please contact your Software Support Representative if you need help logging-in.
New location for next year
Next year's MBTC is scheduled for September 5-7 and September 10-12 and we will be holding the conference in a new location! Due to renovations at the Embassy Suites, MBTC will be located at DoubleTree by Hilton Omaha Downtown. More details will be available in early 2018.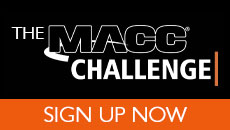 Article Archive
September 2017
Important MBTC information
August 2017
Important MBTC dates and highlights
July 2017
Time to register for the 2017 MBTC
June 2017
Unmask your potential at the 2017 MBTC!
March 2017
There is STILL time to register for MACC's spring events!
February 2017
Keep your skills in tune when you join MACC on the road this spring!
January 2017
Save the date for the Midwest Road Shows