Current eMessage > Client Relations News > April 2020
Client Relations News
MACC is proud to support your company during the new normal
As we all adjust to the new normal in the age of Covid 19, we want to remind you about steps MACC has taken to provide the on-going support your company needs while doing our part to practice social distancing. We also want to pass along steps your company can take to run even more efficiently if you have team members working from home.
As Craig Aman, MACC's President, mentioned in an email last month, we had plans and technology in place to ensure our team could successfully support your company while many of our employees work from home. At this time, a majority of MACC employees have successfully transitioned to working remotely while continuing to provide the outstanding customer support your company deserves. If you experience any hiccups in your daily support from MACC, please contact our Director of Client Services, Joelle Kesling, at 402.533.5270 or [email protected]
A few ideas to boost efficiency
Continue to promote paperless billing – There has never been a better time to promote paperless billing and eBill usage. When your company has more accounts using paperless billing, there are fewer payments needing manual processing. Follow this link for ideas on how to boost paperless billing adoption. Paperless billing can also reduce your expenses.
Keep your customers in the loop – Whether you're taking steps in your community to help customers through this difficult time, or you have new policies in place, don't forget to keep your customers informed. MACC can help through inserts, bill messages, on-bill ads, or posting information to your website.
Take full advantage of MACC Mobile – If your company has MACC Mobile, make sure your team is using it to its fullest extent to cut down on paper service orders and trouble tickets. If you have questions, your MACC Software Support Representative can help.
Be vigilant when it comes to technology – Unfortunately, would-be scammers are busy trying to take advantage of the current health emergency…especially by targeting people working from home. MACC's Tech Support Team put together very helpful advice to reduce your risks. Check out this article to learn more.
If you have any questions about this information, please don't hesitate to contact your MACC Representative. It has been said by many these last few weeks, but we truly are in this together and MACC is proud to support so many companies who are delivering crucial services to their communities.
Return to current eMessage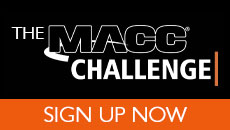 Article Archive
February 2020
MACC's 2020 Users Group is a sure bet