Current eMessage > Featured Employee > August 2017
Featured Employee
Rachel Meyer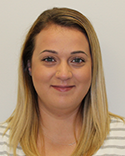 August's featured employee is Rachel Meyer. She is a Technical Support Specialist on MACC's Tech Support Team. Rachel assists MACC clients with any problems that arise with workstations, servers or software.
Q. When did you start at MACC?
A: August 28, 2016
Q. What's your favorite part of your job?
A: The best part of my job is working with our clients and learning from my co-workers.
Q. Can you please tell us about your family?
A. I have a seven-year-old daughter named Adrianna who will start second grade this year. We have a one-year-old chocolate lab named Charlie who is just a ball of joy and my daughter's best friend!
Q. What do you do for fun in your free time?
A: I spend a lot of time with my family and at my daughter's activities. During the summer, I like to get on a co-ed softball team and relive my glory days!
Q. If you could travel anywhere to spend a week on vacation, where would it be?
A: I would like to travel to Bora Bora for vacation.
Q. The one person I've always wanted to meet?
A: Derek Jeter
Q. If you could add any food to the MACC vending machines, what would it be?
A: Veggie Straws! So good!
Return to current eMessage