Current eMessage > Featured Employee > September 2017
Featured Employee
Crys Zima
Crys Zima is MACC's featured employee for September and is a Project Manager in our Client Services Team. She works closely with new clients as they convert to MACC's platform. Crys also coordinates the work effort when existing clients implement significant new features or new ways of using MACC's products. Before her role as Project Manager, Crys worked in the Information Services Department as a Product Manager of Application Interfaces.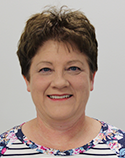 Q. When did you start at MACC?
A. I started at MACC on June 10, 1991.
Q. What's your favorite part of your job?
A. I like working as part of a team with my co-workers and our clients. Since I am in project management, the best part of my job is when we successfully complete the transition of a new client onto our platform and move on to another project.
Q. Can you please tell us about your family?
A. My husband, Dave, and I dated in high school and have been married for 33 years. He is part owner of a fiber splicing business that contracts work throughout the midwest. Our daughter, Karleigh (26), graduated from the University of Nebraska-Lincoln with an English major (Classics and Psychology minors). Our daughter, Makenzie (23), graduated from Doane College in Crete, Nebraska. Both have recently moved to Ann Arbor, Michigan where Karleigh will be joining the work force and Makenzie will be pursuing her graduate degree in Environmental Health Sciences-Toxicology. My mom lives in Blair and my brother lives in Texas. I lost both my dad and my sister earlier this year.
Q. What do you do for fun in your free time?
A. I like to spend time with my family, go to the movie theatre, auctions, NASCAR races and volunteer for several community enriching projects. We also have two dogs (a Vizsla and a Beagle) that keep me busy.
Q. If you could travel anywhere to spend a week on vacation, where would it be?
A. New Zealand, but I would definitely need more than just one week.
Q. What's the best career advice you've ever received?
A. On my first day at MACC, my immediate boss told me that he was going on a two-week vacation so "keep yourself busy."
Q. What's your favorite quote?
A. "We cannot change the cards we are dealt, just how we play the hand."– Randy Pausch
Q. The one person I've always wanted to meet?
A. It would have to be the Bee Gees (Barry, Robin and Maurice Gibb, and their brother, Andy).
Q. If you could add any food to the MACC vending machines, what would it be?
A. Lifesavers Mints (Pep O Mint). They probably should just make it the 41oz bags.
Return to current eMessage