Current eMessage > Client Relations News > June 2022
Client Relations News
Changes on the MACC Team
by Joelle Kesling, Director of Client Services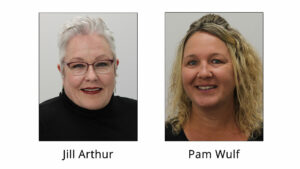 We're saying "Happy Retirement!" to a long-time co-worker and friend, Jill Arthur. Jill spent 19 years at MACC, first as a Training / Conversion Analyst coming to your offices to teach you all about Accounting Master, and then as a Client Relations Manager handling most companies west of the Missouri River. Jill's vast knowledge of the industry, our products, and your business needs will be missed on a daily basis – but the good news is Pam Wulf is stepping into Jill's shoes and taking the lead role as the Client Solutions Manager!
Pam has worked at MACC for many years, most recently as the Account Manager for the companies Jill covered. Prior to being an Account Manager, Pam worked as a Software Support Representative – so this should tell you she knows a lot about Customer Master, MACC processes, and your business needs.
If you have any questions, please contact me at 402-533-5270 or [email protected] and I will be happy to help!