Current eMessage > Product > May 2019
Product Spotlight
Accounting Master 19.1
By Stacie Finken, Accounting Master Product Owner
Below you'll find highlights from the 19.1 release of Accounting Master. They're just a sampling of the dozens of enhancements the Product Development Team added to improve the program and make it an even more useful tool for your company. After recently making the transition to Product Owner, I'm looking forward to working on version 19.2 this summer and showing you all of the new improvements this fall.
Inventory Cycle Count
Inventory continues to be an area of focus for MACC customers. The latest option includes a cycle counting function. Cycle counting can be defined as an inventory auditing procedure where a small subset of inventory, in a specific location, is counted on a specified day. The implementation of cycle counting will allow customers to establish company defined criteria to set cycle count parameters. This includes the concept of ABC cycle counting as well as random sampling.
Human Resource Limited View User
The 19.1 release introduces a new security role called HRLimitedUser. With this role users who need limited access to certain employees and HR related screens will be free to view and/or edit information from within the Accounting Master database. In addition to providing a user (typically a manager or supervisor) with this database role, additional maintenance will be established by an administrator within Accounting Master to ensure this role is customized to fit a company's needs.
Time Management: Restricted Dollar Pay Type Entry
Processes and procedures differ from one company to another. To accommodate the range of employee responsibilities MACC has added a feature to TMS to allow employees to enter specific dollar pay types. This addition focuses on pay types such as On Call Pay but can accommodate any desired dollar pay type. Instead of involving the payroll administrator in the on call calendar, and the inevitable shift changes, this new option puts the responsibility on the employee.
Option to Email ACH Stockholders from the Dividend Process
Stockholders have an option to receive their dividend instantaneously through ACH processing. This option benefits both the company and the stockholder. Companies can save overhead costs related to check stock and postage while stockholders receive the dividend payment in a timely manner. This option has become more popular for MACC Stock companies. To improve this process MACC has enhanced the dividend process to generate an email notification to those ACH recipients.
Return to current eMessage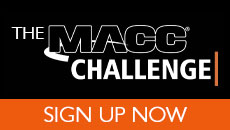 Product Spotlight Archives